App Download Instructions
A few of my apps may be downloaded directly from Google Play Store. Most must be obtained directly from my server. However, because of the potential for harmful apps your phone will ask you for a series of permissons. At each step keep responding possitively to options like: "download" , "keep" , "OK" , and "open." These may vary depending on the make of your device and the version of Android you are using. For additional informationtake a look at the "Hot-To-Geek" web page link. The examples below are from a OnePlus phone running Android version 13.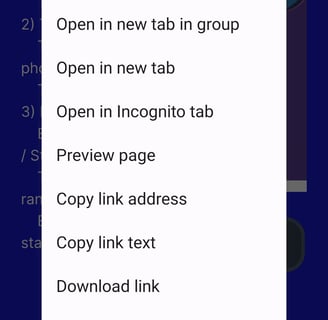 Hold down button until you see ...
Select "download link" ...